CoSM Journal of Visionary Culture Update
CoSM Journal of Visionary Culture is now online and web editions are free!  You can now view the first series of extended articles with bonus, previously unreleased text, art and photographs here : http://cosm.org/journal/
Celebrating creativity at the heart of spiritual practice, the new volume of CoSM Journal of Visionary Culture shares reflections of artists, leaders and futurists from their experiences of Divinity.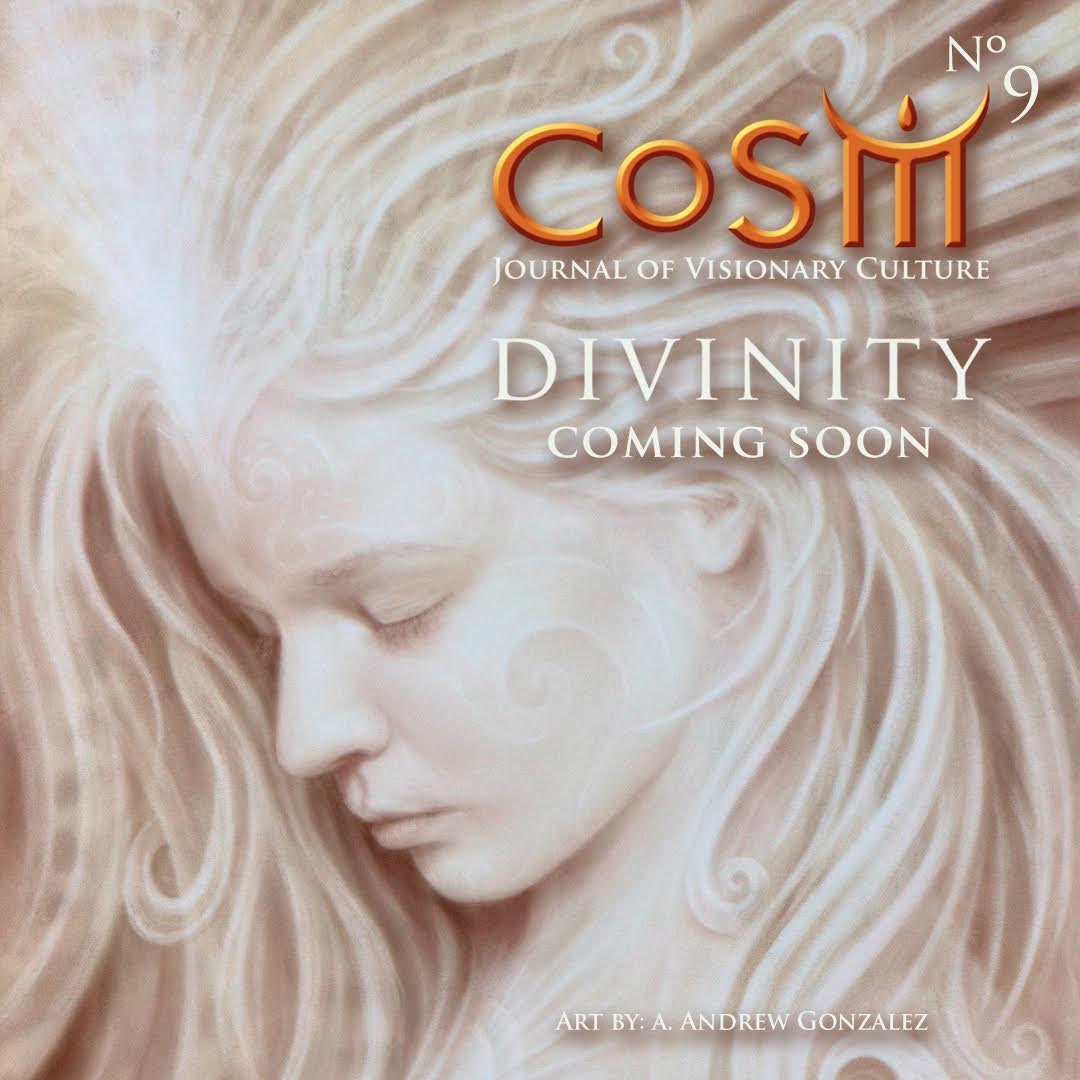 What is your experience of Divinity?
"The soul's eye view is what all of sacred art and literature share, a portal into Divinity."
– Alex and Allyson Grey
www.CoSM.org
Allyson Grey
Square Root
www.allysongrey.com
"The Jeweled Net of Indra, the vision of reality that arose with Hua Yen Buddhism, reveals a world where each being, each gem at each node of the net, is illuminated by all others and reflected in them. As part of this world, you contain the whole of it."
– Joanna Macy
www.joannamacy.net
Damon Soule
Unfoldment
www.damonsoule.com
"The great gift for humanity is that this Creative Universal Intelligence, this Consciousness Force, this Spirit-in-Action is indwelling in each of us as us.  It is the Impulse of Evolution, the animating power that activates in each of us our own heart's desire to be more, do more, love more, give more, create more, just like the universe itself is always doing."
– Barbara Marx Hubbard
www.barbaramarxhubbard.com
"It is Being Itself, the very Breath of Life that fills our lungs, so close to us, so full of mystery."
Rabbi Jonathan Kligler
www.rabbijonathankligler.com
Vibrata Chromodoris
Three Improbable Events
www.vibrata.com
"My experience of Divinity is life itself.Life in all the vitality, diversity, and renewal."
Vandana Shiva
www.vandanashiva.com
"Speaking is the primary metaphor: Spoken words convey meanings, connections, structures, images, fears, hopes, and so much else. But words would be inert and ineffective without the flow of the out breath of which they are spoken."
– Rupert Sheldrake
www.sheldrake.org
Andrew Jones
Humming Dragon
www.androidjones.com
"Shakti, an Energetic Consciousness or Conscious Light that can zap, radiate, illuminate and re-wire us through a broad range of "openings," be these erotic, traumatic, psychedelic, aesthetic or contemplative."
Jeffrey Kripal
www.kripal.rice.edu
Judy Chicago
Rainbow Shabbat
www.judychicago.com
"Religion is focused upon one's beliefs about Divinity. Spirituality is focused upon one's experience of Divinity."
– Michael A. Singer
www.untetheredsoul.com
Michael Divine
Gratitude
www.tenthousandvisions.com
"The experience of nature and the experience of the eternal inner worlds is the Divinity of Divinity, both outside and inside."
– Luis Eduardo Luna
www.wasiwaska.org
Luis Tamani
Mujeres del Viento
www.luis-tamani.com
"The Vast Radiance of The Celestial Light
Shining at Night, through the Stars and the Moon
In The Heavens above us."
– Jeffrey Bronfman
Andrew Gonzalez
Leo Rising
www.sublimatrix.com
"It doesn't require faith in the invisible, it really just requires appreciation, reverence, joy and love for what is all around us."
– Starhawk
www.starhawk.org
CoSM Journal of Visionary Culture shares with its readers the work and stories of artists, thinkers and community builders who are dedicated to transformative living, and committed to the integration of wisdom and the arts. It is offered to inform, connect and inspire this evolving global awareness.
We are currently in the final printing phase of the new 'Divinity' volume 9 of CoSM Journal which will appear in our world this winter.