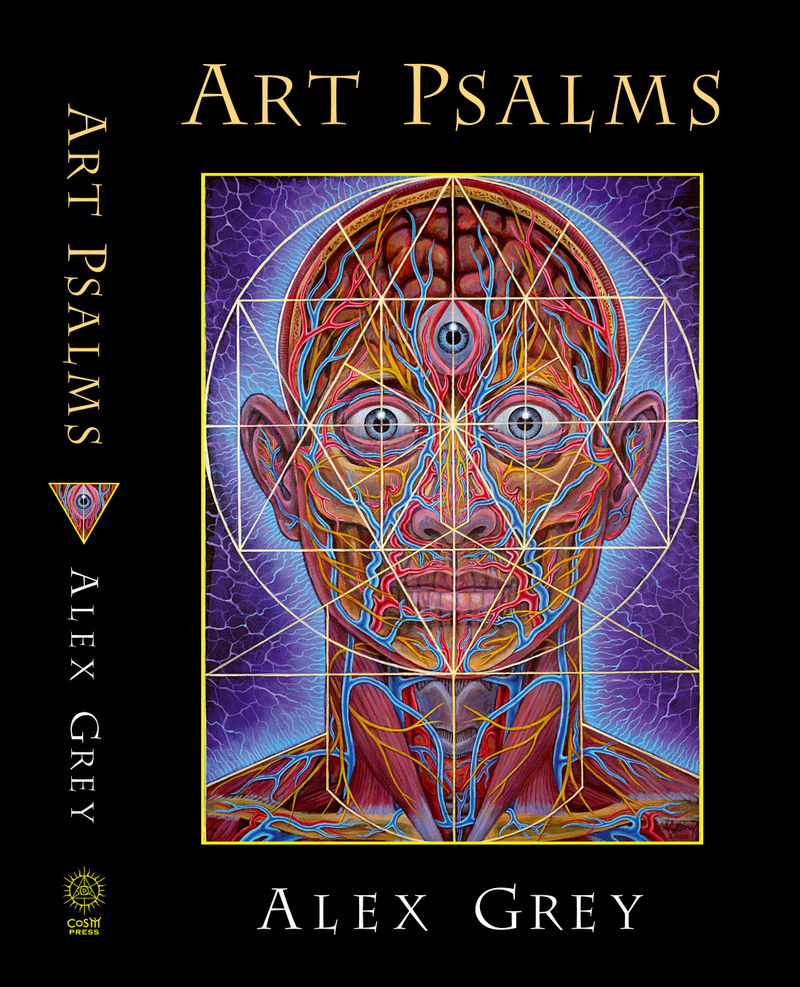 Buy Book | Signed by Alex Grey!
The power of art as a transformative path is the theme of this inspiring collection from artist and author Alex Grey. ART PSALMS combines poems, pictures, and "mystic rants" that fuse visionary creativity and spirituality. Grey's oracular declarations show that both art's creation and observation can be a practice of love and communion with the divine.
Many of these writings have been shared at gatherings worldwide, especially at New York City's CHAPEL OF SACRED MIRRORS (COSM), a contemporary sacred space co-founded by Alex and Allyson Grey.
Selections include "Soul Marriage," which invites the reader to commit to personal and global transformation; "Guidance for Servants of God," precepts for life as a sacred path; and "The Plan," which aligns universal and individual creativity.
The entire text of Grey's spoken word performance, "WorldSpirit," is included here. Three annotated portfolios, "Meditations on the Divine Feminine," "Meditations on the Masters," and "Meditations on Mortality," explore the connection between drawing and meditation as ways of seeing. Equally meaningful for art lovers, the health and spiritual communities, and anyone seeking to develop their creativity,
Art Psalms features over 150 new reproductions of drawings, paintings, and sacred geometry to enrich and awaken the inner artist in each of us.
Artist and author Alex Grey is best known for his visionary paintings that integrate the anatomical body with the transcendental light of the soul. His work brings together the paths of science, creativity, and spirituality. Grey's paintings, sculpture, and performances have been honored exhibitions in Sao Paulo Biennial, the Grand Palais in Paris, Venice, and at the American Visionary Art Museum, the New Museum, and the Museum of Contemporary Art, San Diego. Tool, Beastie Boys, Nirvana, SCI, and David Byrne have featured Grey's work as album art. "WorldSpirit," a spoken word piece, drew over a thousand people when performed in Oakland, California, and is available as both a CD and DVD. Grey's artworks are chronicled in the monographs, Sacred Mirrors: The Visionary Art of Alex Grey (published in six languages), Transfigurations, and in his pictorial philosophical text, The Mission of Art.
"Who says the time of revelations is in the past? Alex Grey's ART PSALMS, and his life's work
bear witness to the aliveness of Spirit in our dangerous and decisive times.
Read and Pray this book and grow your soul!"
—Matthew Fox, author, Original Blessing, and Creativity:Where the Divine and the Human Meet